Nationwide Flag & Flagpole Sales & Service
972-607-0958 877-801-FLAG(3524)
Flagpole Installation | Flagpole Repair | Flag & Flagpole Manufacturing
Dallas | Ft. Worth | Houston | Austin | San Antonio | El Paso | OKC | NYC | Tampa | Chicago| Pittsburgh | Atlanta | Nashville | Phoenix
Flag & Flagpole Manufacturing
About Flag Systems Pro Flagpole Services
Nationwide Flag & Flagpole Sales and Service
Flag Systems is here to serve "All Your Flagging Needs". We make buying flags and flagpoles convenient for our clients Nationwide. With service locations in Dallas TX, El Paso TX and Columbus OH we have made turn key flag and flagpole purchases easy and affordable. We offer 15 different style flagpoles with more than 20 height options, thousands of flagpole parts, flagpole lights for any size flag and more than 350 different flags. Flag Systems is your 1 Stop Shop for all things Flags and Flagpoles. Flagpole Installation and Sales is what we do best! New construction, remodel, home addition, sign replacements, getting noticed, company branding, whatever you need a flag and flagpole for we have you covered. Purchasing a Flag or Flagpole online has never been easier by clicking here. Or call us anytime and speak to a flag and flagpole sales professional at: -Nationwide:
877-801-FLAG(3524)
-Dallas/Ft. Worth TX:
972-607-0958
-El Paso TX:
915-233-FLAG(3524)
-Columbus Ohio:
614-879-FLAG(3524)
-New York:
646-969-FLAG(3524)
Dealer Pricing Available on Flag Systems Flags & Flagpoles
Nationwide Flag Sales | Dealer Accounts Available
We began manufacturing all size US, State and International Flags in 2021 and have developed our flags to be the strongest and longest lasting flags in the industry. Our flags come with a 30 day satisfaction guarantee or your money back! We use High Strength banding at the head of the flag and Stainless Steel D Rings for all flag connection points. Ouf Fly ends are folded and locked together with Quad-Lock-Stitching. We keep all size American & Texas Flags in-stock. We also stock Indoor Flags & Flagpoles, Law Enforcement Flags, Historical Flags, Military Flags, Religious Flags, Corporation Flags, Car Flags, Stick Flags, Framed Flags, Custom Flags, all 32 NFL teams & select MLB, NBA, NHL & NCAA Flags! We are open to the public Monday thru Friday 8 a.m. to 5 p.m. Come visit us at
13830 N Stemmons Fwy Ste. B Dallas TX 75234
.
You can click our address for directions to our Flag Store! To get a free quote on flags click here.
We offer flagpoles installation for all of our Mounmark™ Series Flagpoles. 50'-250' Steel Flagpoles. Contact Us and get your Project started today.
Our Freeedom Series Flagpoles come standard with a lifetime warranty and Free Flagpole Installation. Contact Us today to get your Project Underway!
We use an ultra tough 2-Ply Spun Polyester material colored to exact specs for optimal flag colors and performance. All Poly-Tuff flags are manufactured at our facility in Dallas Texas.
We manufacture Ultra-Brite Nylon Flags to make your flag display stand out! They are super bright and super strong! Call us Today or
Click Here to Order Online.
Commercial & Residential Flagpoles
Our flag & flagpole sales staff is ready to assist you with your flagpole installation project. We have hundreds of flagpoles in stock ready to ship or be installed by the Flagpole Professionals at Flag Systems. Flagpoles come in many styles with different mounting applications so therefore We sell and Service a large variety of Aluminum, Fiberglass, Steel and Wood flagpoles. We manufacture our Mounmark™ Series Flagpoles, they range from 50' to 250' in Height. Aluminum Flagpoles for Residential and Commercial Flagpole Applications are available from 15' to 100'. Our Fiberglass Flagpoles range from 20' to 72' and can also be used in Residential or Commercial flagpole applications. For help choosing the perfect flagpole click here! Flag Systems is your One Stop Shop for anything flag & flagpole related. To request a quote for a flagpole or flagpole installation

click here

.
Professional Flagpole Installation and Flagpole Repair
No project is to simple or complex for Flag Systems. We are here to bring
you only the best Flag & Flagpole products and services. Your satisfaction
is our guarantee! And just to prove that we are now offering a limited
lifetime warranty on all our flagpole shafts in addition to the 1-year
warranty we already offer on parts and flagpole installation's. Flag Systems
is your one stop shop retailer and flagpole service provider for flags and
flagpoles in Texas. We offer Flag & Flagpole Sales & Service at an
affordable price for everyone with same day flag or flagpole delivery (in
town)/shipping; flagpole purchase, flagpole installation, flagpole repair,
flagpole removal, flagpole relocation, flagpole renovation or any flagpole
service in the Dallas/Ft.Worth area, El Paso area or Columbus OH area.
Contact Flag Systems today and let us take that headache away. To
request a free quote on any of our flagpole services click here .
100'-250' Monumark™ Flagpoles
Mounmark™ Flagpoles starting at $13k Installed
50' to 100' Freedom Series Flagpoles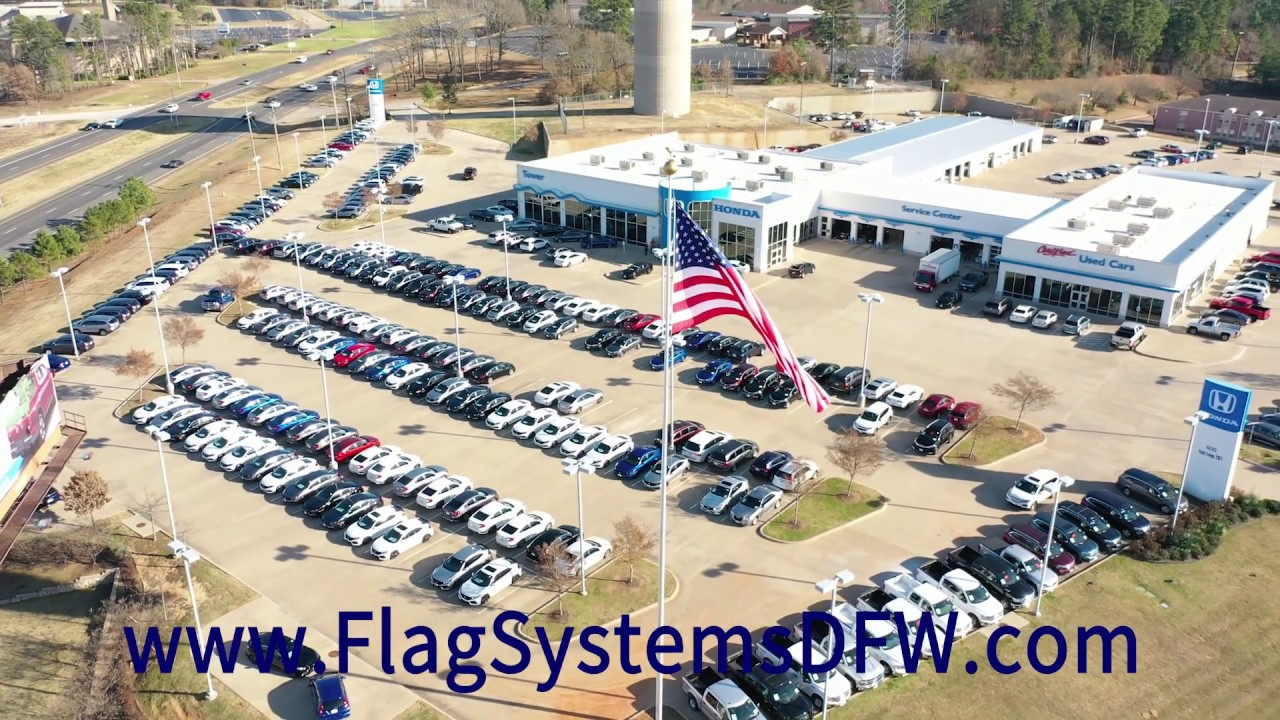 On Site Services offered by Flag Systems
Flagpole Installation - 15' to 200'+ Flagpoles

Flagpole Repair - 15' to 200'+ Flagpoles

Flagpole Removal - 15' to 200'+ Flagpoles

Flagpole Relocation

Flagpole Painting

Yearly Flagpole Maintenance

Flag Repairs

Light Pole Restoration

Light Pole Installation

Light Pole and Parking Lot Light Maintenance

Flagpole Installation - We Will Match Any Quoted Price - No Hassle Guarantee Flagpole Installation can be a tricky process that is better left to the professionals. Flag Systems is your leading provider for Flag and Flagpole Service and Sales, we offer an array of services that we guarantee will meet any of your flagging needs. We have over 25 combined years of experience & knowledge in the Flag & Flagpole Industry which makes us America's preferred flagpole installation & flagpole repair company. We install flagpoles no matter how large or small they are. Flag Systems installs Steel Flagpoles, Aluminum Flagpoles, Fiberglass Flagpoles, Wall Mount Flagpoles and Nautical Flagpoles. We repair and install flagpoles Nationwide! Look no further than Flag Systems, we take great pride in patriotism and we guarantee our work, every flagpole we install includes a standard 1 year warranty. Contact us for more information on our Extended Warranty Plans. 877-801-3524
Eliminate all of the items on your patriotic to-so list by calling the experts at Flag Systems, we offer our services at cost effective prices! We are the leading supplier of flags, flagpoles and flagpole service in Texas. We'll be there whenever or whereveryou need us! Flag Systems services the entire State of Texas, Arkansas, Oklahoma, Louisiana and New Mexico. We service residential and commercial flagpole
customers alike so call us today for your free estimate at 877-801-FLAG or click on our Request a Quote page, just fill out our short flagpole service form and we will be in contact with you that same day. No project is to big or to small so when you consider having a flagpole installed or purchasing a flagpole, give us a call. We will beat any competitors price!
We give a standard 1-year warranty on all flagpole foundation installations. When you are looking for your project to get done right the first time call Flag Systems. Our projects are completed from start to finish by our extensively trained flagpole field techs and we have the best prices in the US. We are fully insured and bonded for your safety and ours, we beat competitors' price by 5%. Call our office today at 972-607-0958 or send us an email: sales@flagsystemsdfw.com
100' Vertical Wall Mount Flagpoles - Call for Custom Quote 877-801-3524
"AMAZING!! They did a fantastic job installing a gorgeous flag at our home!! It is strong, beautiful, and will last for years. I highly recommend Flag Systems if you want a fantastic setup. Get the lights, rotating truck, and the tamper-resistant lock box and channel—the only way to go. The customer service and installation was exceptional. Couldn't be happier!"

"JoAnna in Dallas was great to work with! Very helpful and prompt with returning emails .We love our new Flag pole system.Sims Library Waxahachie."

Lori Woodard / Sims Library

"Flag Systems did an excellent job installing a flag pole @ our Bank of America site. They were able to accommodate our accelerated schedule in order for us to make our completion date and turnover the project on time. I will be using Flag Systems again on future projects and would highly recommend them for any of your flag/flag pole needs."